Pre Check
Identify the parts that make up the Lower Fairing Inserts kit. Refer to Photo 1.
Confirm that connections are made to the bikes P&A connector . Reference Photos A and B for P&A connector locations. Reference photo C and Video as an example of how the connections are daisy chained together.
Batwing Fairing connector location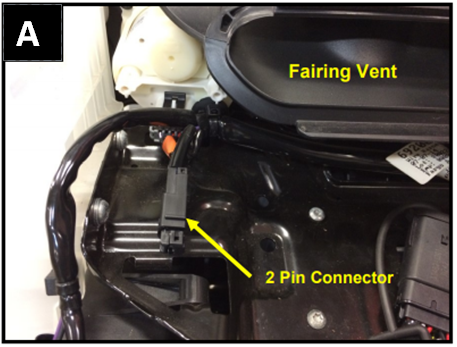 Road Glide P&A connector location
Batwing Fairing P&A Connection Install Video
BCM Adapter Harness Connections
If your connections are correct and you have a loss of LED function. Use the checklist below.
Check stock turn signal operation for turn signal function
Swap the Left and Right light light harness connectors (Point A in Photo 2 Below).
Turn the bike on and test for Run, Left/Right Turn signals. During turn signal operation, the lower fairing inserts will illuminate on the opposite side that is activated
If the issue is now on the opposite light, there is a problem in the BCM Adapter or in the Bike's wiring. If the issue remains on the same light there is either an issue with the wiring going to the lower fairing insert or a fault in the light itself.
If your symptom is the white LED running light function is not illuminating and from the troubleshooting steps it is determined to be related to one of the BCM harness adapters perform these steps.
Install the P&A connections individually and check white LED function
If the white LED is still out the issue is in the LF-AW-HARN for that side.