Tech Bulletin:Bench Testing Load Equalizer
This bulletin describes using a Digital Multimeter to bench test the Load Equalizer
The Correct Tools
Digital Multimeter with the capability of measuring direct current amps noted by this symbol.

Below are a few examples of different devices: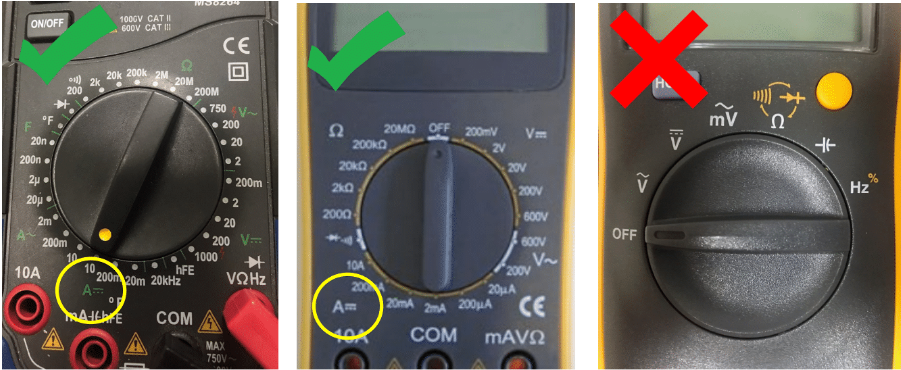 Many multimeters have multiple ports for the test leads. See photos to the below as an example: Three ports are labeled 10A, COM (which stands for "common"), and mAVΩ (milliamps, millivolts, milliohms).The text on the multimeter indicates the fuse between mAVΩ and COM is rated for 200mA. DO NOT USE THIS PORT TO TEST THE LOAD EQUALIZER! The fuse between 10A and COM is rated for 10A, The Red lead should be plugged into this port to test the Load Equalizer.
Testing Instructions:
1. Connect (-) 12vdc to the Black wire of the Load Equalizer
2. With your meter set to read 10 amps Vdc connect the Red meter lead to the (+) 12vdc.
3. Turn on 12vdc power source.
4. Momentarily connect the Black meter lead to the color wire of the Load Equalizer (turn signal) and record peak reading.
5. Repeat steps 1-4 for the other color wire of the Load Equal-izer (turn signal).
6. The current draw may vary depending which load equalizer is being tested but should be the same between the turn signal wires.